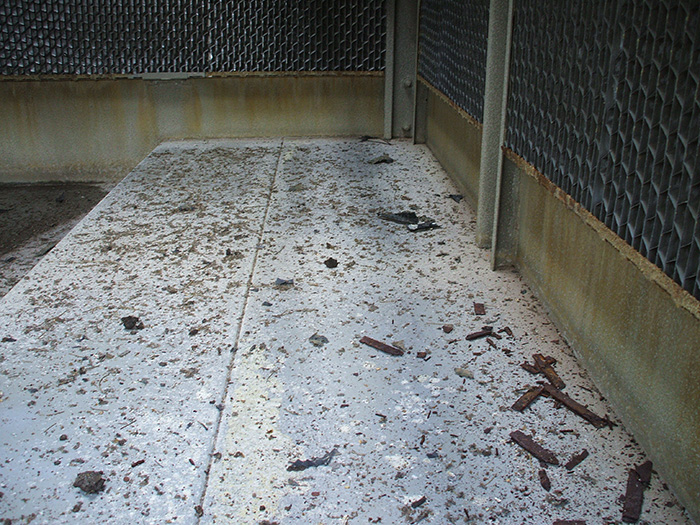 A rusting tower can provide a major nutrient source for bacteria such as legionella. As such it is vital, as required by ACoP L8, to ensure not just the cleanliness of the tower pond but also the physical condition of the pond surface itself. There should be no rust or flaking paint and excess scale should be removed if it cannot be prevented. Albion Cooling Systems can provide re-coating services for all configurations of cooling tower, although it is generally only reuired for units constructed from galvanised steel.
PREPARATION
Any paint application is only as good as the surface preparation and we will pay careful attention to this aspect. Generally we will remove all loose and flaking material,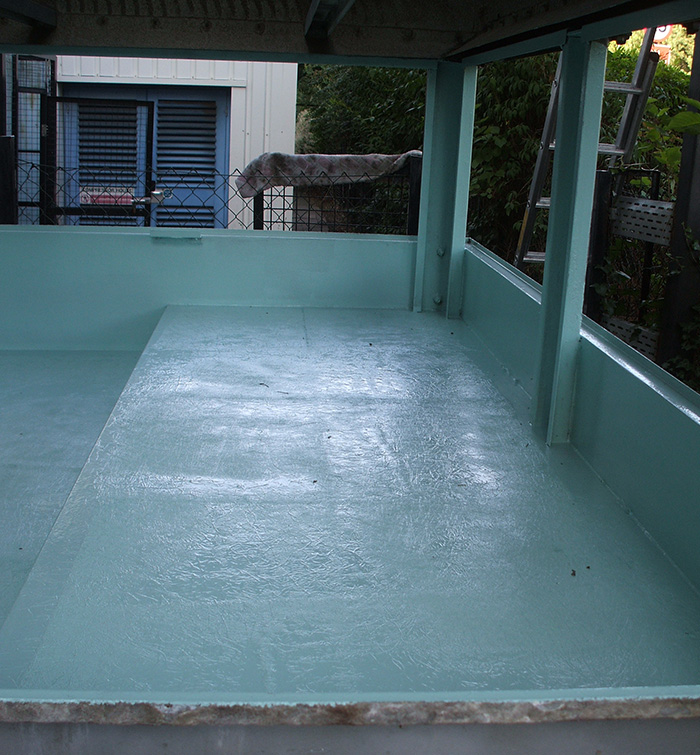 excess scale and rust etc, using hand tools. However if it becomes necessary to take the tower surface back to completely bare metal we can organize specialist grit or sand blasting of the tower. Any small damaged areas of the surfaces to be repainted are repaired where necessary, and the tower thoroughly cleaned.
COATING
Once the surfaces to be painted have been prepared recoating can be carried out. This is usually achieved using a suitable two-pack Epoxy paint system. When applying the undercoat a layer of fibreglass matting is sometimes added as a bulking agent to provide additional strength. Once this layer has fully cured the top coat can be applied. Both coats are applied by hand tools only to ensure that all relevant surfaces and hidden angles etc are fully coated. Although Blue and Black paint are usually used we can try to match paint finishes to a specific RAL paint number where specified, and we can also use alternative paint systems if there is particular client preference. Where more significant repairs are necessary we can often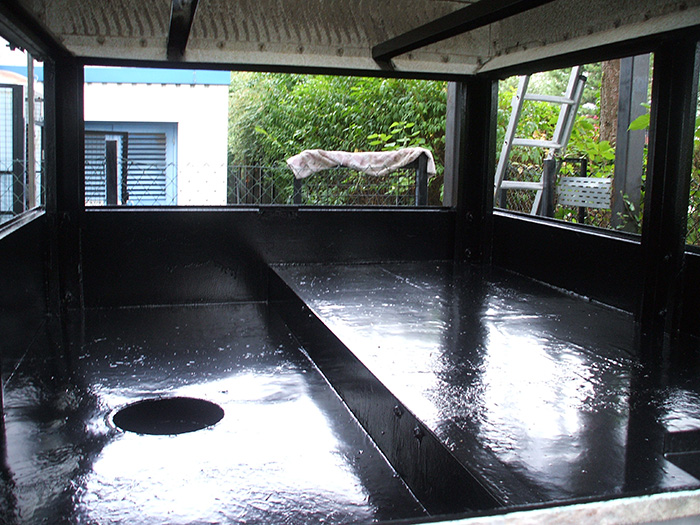 completely reline the tower pond with fibreglass to build a pond within the pond.
Generally cooling towers are only repainted internally, whether this be limited to the pond area only, all internal wetted surfaces or the complete inside. However if required towers can also be repainted externally.
As well as painting and/or relining cooling tower ponds we can also provide this service for other areas such as any water system buffer tanks. Please contact us for further details of what can be achieved with re-coating.